1. One Bath Pad-Dry Method: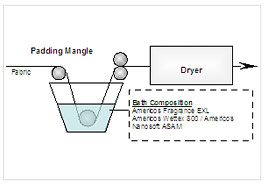 Preparation:
All products should be diluted first before mixing, Never add capsules in concentrated form into the bath.
Pad Through Following Trough Mixture:
| | |
| --- | --- |
| Americos Wettex 800 : 0.1 g/l (Wetting agent) / Nonionic penetrating | 0.1 g/l |
| Americos Fragrance EX | 30 g/l |
| Americos Resin Binder (Nonionic Acrylic Binder) | 50–80 g/l |
| Americos Nanosoft ASAM | 20 g/l |
Finally make up the bath to 1000 parts with water.Pad the fabric with the above recipe for 90% pick-up and then dry/cure at 155°C for 30 seconds.
2. Exhaust Method: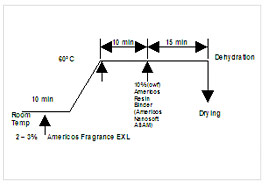 This method is recommended for garment processing and should not be applied in the jet.
Steps involved in the exhaust method:
Add the garments to the machine
Fill the water to a liquor ratio of 1:10
Dilute the microcapsules and gently stir to make good dispersion of capsules
Add diluted capsules to the bath (an anionic dispersing agent can be added to ensure good dispersion)
Run the machine for 10 min
Raise the temperature to 50 – 60°C depending on binder's characteristics
Run the machine for further 15 min
Add a nonionic binder
Run the machine for further 15 min
Add nonionic softener and run the machine for 15 min (if required )
Drain
Hydro extract
Dry (do not exceed 155°C)
Storage & Handling Precautions:
Store in cool place
Avoid storing in direct sunlight
The usual precautions in keeping chemicals away from eyes and skin should be observed
Technical Service:
Information covering specific application of this product is available. Americos Industries will work with customers to enhance processes and solve problems. Let us know what you need and we will assist you.
(The information and data contained herein are based on controlled lab work. The recommendations are given on experience basis, but cannot be extended to assure every possible case. It should be verified and evaluated by the user through proper testing for the intended conditions of application. Americos does not express or imply any warranty, or guarantee the suitability of the product for the application intended by buyer of the product).