Introduction :
Americos Catalase XL is highly effective in catalyzing the decomposition of hydrogen peroxide into oxygen and water. In textiles processing, this is often the most preferred mode of hydrogen peroxide removal after the bleaching step as the enzyme and the breakdown products are totally inert to Reactive dyestuffs.
Americos Catalase XL enzyme accommodates a broad pH and temperature range and remains effective even at high concentrations of hydrogen peroxide.
Advantages
Enzyme is completely biodegradable
Highly effective hydrogen peroxide removal
Effective over a broad temperature range
Works well at any residual peroxide level
Reduces water consumption
Enzyme and the breakdown products (water and oxygen) have no effect on dyestuffs
Increase dyeing productivity
Properties:
| | |
| --- | --- |
| Dosage | 0.025 - 0.1g/l |
| pH | 3 - 9 |
| Temperature | 30° - 70°C |
| Time | 10 - 20 Minutes |
Removing Hydrogen Peroxide with Americos Catalase XL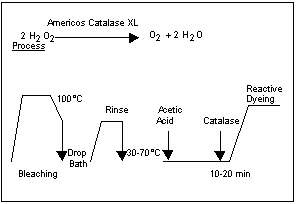 Americos Catalase XL removes hydrogen peroxide with very simple system with cost effectiveness and reliability Excess reducing chemical used ? H
2
O
2
removed but excess reducing chemical affects dyeing Insufficient reducing chemical used ? H
2
O
2
not fully removed and affects dyeing
Removal of Hydrogen Peroxide :
Hydrogen peroxide and other peroxy compounds are commonly used for bleaching in preparation of cellulase based fabrics and yarns. If not completely removed, hydrogen peroxide will cause shade change with some fiber Reactive dyes. Even a small amount of residual hydrogen peroxide, particularly left in creases and folds of fabric, causes change in cast of dye resulting in uneven dyeing.
Technical Service :
Information covering specific application of this product is available. Americos Industries will work with customers to enhance processes and solve problems. Let us know what you need and we will assist you.
(The information and data contained herein are based on controlled lab work. The recommendations are given on experience basis, but cannot be extended to assure every possible case. It should be verified and evaluated by the user through proper testing for the intended conditions of application. Americos does not express or imply any warranty, or guarantee the suitability of the product for the application intended by buyer of the product).
Copyright (c) 2011 Americos Industries Inc. All Rights Reserved